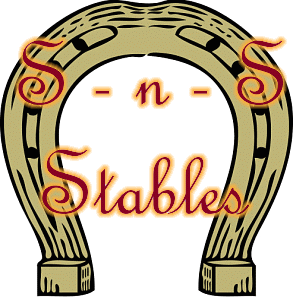 "Shiloh"
Red Roan Frame Sabino Mare
Twister & Cloud 3/24/09
Twister X Smokey colt 2009
Cloud & Tyler at Fair 8/09
Look at him now !
A.J. w/ Twister & Tyler w/ Cloud
Fair 8/09
Twister & Cloud in 4-H
8/09
Skye & Thunder- 4/5/2010
Grullo colt
IT'S A BOY !!! "Skye", our 5 y.o. QH mare foaled on April 5, 2010 @ 5:05 AM. Her new colt, "Thunder" is a big, beautiful Grullo & very sweet, sired by "Smokey", our Bay B.S. Paint stud, "Smokey" may not have color but throws paints & beautiful & unique solid colored foal's. "Thunder" will be for sale when weaned in September.
Congrat's to Patty & her mare "Dusty", on their new arrival, a pretty strawberry roan filly, yet to be named, sired by our BS Paint stud, "Smokey".
"Cloud"
6/24/09- 3 mo. old
S-N-S Stables in the Star Beacon- Thanks, Carl !
See the article in the 6/2/06 Starbeacon in "current's" pg.C1!
S-N-S Stables is located in Northeast Ohio, on 50 + gorgeous acres, including a new 80 X 100 indoor arena, fenced pasture's & paddock's, a heated wash rack & beautiful trail's, all surrounded by a peaceful country setting. This location is perfect for any horse lover & an equine paradise, we look forward to sharing it with you ! Please e-mail or call for rate's & a tour !


Montana Le La aka "Tanner"
Our Haflinger Stud






WELCOME SKYE !!!

This is S-N-S Stables newest addition, S-N-S Skye Blue,(Skye), with mom, she was born 4 / 30 / 04 . She is now 10 month's old & has shed out to look just like mom. (See Pic's).

Skye at 1 month old, yes, this is the same horse !!

Skye has grown up to be one of our broodmare's- she is a super sweet girl & now has a beautiful filly that is a carbon copy of herself, foaled Spring 2007... see pic below...