"Sam" (A.J.) is our 10 year old, he took "Jester" our Mini to fair in 2004, & they brought home 9 ribbon's, "Jester" was a real ham & being that he's only 28" tall, drew crowd's where ever he went !- Especially in his "Stripe's" costume, complete w/ real blinker's !
"Jester"
In his "racing stripe's" costume !
"Jester" is a double registered Miniature stud, he is grullo w/ black point's, he will be 2 year's old in the Spring of 2006. He is 28" tall & is a very sweet & sociable little guy ! Jester was sold & is a stud in Southern Ohio.
"Banjo" was A.J.'s 2007 fair horse, he is now almost 30 & retired.
"Twister" was A.J.'s 2008 fair horse, she is our 4 y.o. Haflinger mare, they did great even though Twister has a hard time standing still !
A.J. & Twister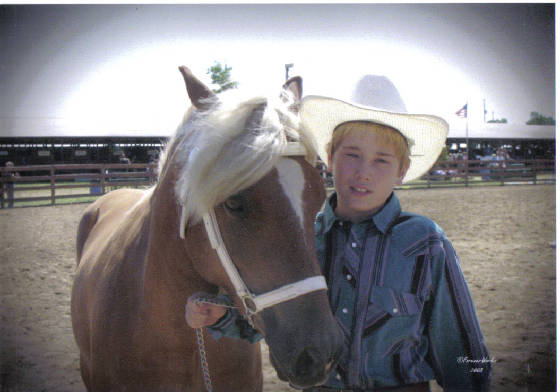 Fair 2008